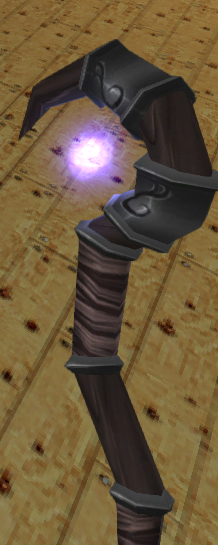 Dark Magic is a magic weapon that when used on dark/undead creatures, it heals them. Dark Magic has 30 durability.
It costs 30 Mana to use.
At base stats, it deals 25 Dark Damage and 5 Dark Damage over a period of 5 seconds. With each additional point in the Magic Damage skill, its effect also increases.
To use, click/tap and hold on a creature until it casts.
Crafting
Edit
Its recipe is unlocked by completing the achievement "Necromancy" which requires killing 100 Dark Mages.
Dark Magic is made in the Crafting Table using 5 Rubies and 2 Sticks.
Alternatively, it may be purchased for 45 Diamonds.
When using Dark Magic, the target is engulfed in dark smoke, accompanied by revolving skulls and bones.
Its opposite is Life Magic which deals damage to dark/undead creatures.
Dark Magic produces a faint blue light when held.
Community content is available under
CC-BY-SA
unless otherwise noted.